Have you ever had a question about youth baseball that you've always wanted to ask?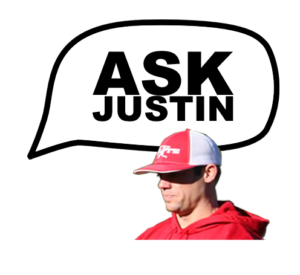 Youth Baseball Edge is proud to partner with Elite Baseball Training for a special "Ask Justin" segment on each podcast session, the first interactive opportunity of its kind in the industry. Yes, YOU get to ask Elite's Justin Stone any question you have about youth baseball.
Submitting a Question
Here's how it works:
Ask Justin your question below.
Each week, Justin will pick a submission to answer for the Question Of The Week.
The Question Of The Week segment will be at the end of each podcast episode.
Submission Guidelines
I expect this podcast segment to be fun, personal and helpful. Just a couple guidelines:
Ask as many different questions as you want but submit each question separately.
If you want to remain anonymous, please state that. Otherwise, you are giving me permission to say your name on the podcast (which is actually kinda cool). If you want to tell me your location, that's fine too.
Note: by submitting your question, you're also signing up for my email newsletter. (If you're already subscribed, don't worry—you won't be subscribed twice.) You can unsubscribe at any time.
Two ways to submit your question
You can use either of the following options:
the email form below. This is useful if you do not have a microphone on your computer. (Note: after you've submitted your question, you'll see a confirmation at the bottom of the page.)
record your question via voice message below. Easier than typing (esp. on a mobile device) and more fun. Your question is limited to 90 seconds. If you are not on a mobile device, you'll also need a microphone.
Option 1:
Option 2:
Want MORE Edgy Info?
Never miss an article! Enter your info to get more practical, actionable youth baseball coaching info like this.

Are you a new coach? I have a free 15-day email course just for you, where I walk you through coaching a team for an entire season over the course of 3 weeks.