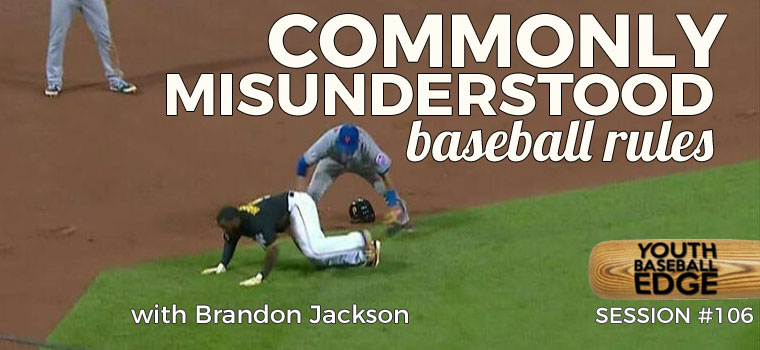 Ever wonder what an umpire's thinking? What IS an umpire's strike zone supposed to be? Here's your chance to find out. Brandon Jackson, a long-time and well-respected collegiate umpire, explains umpiring philosophies and goes through some commonly misunderstood baseball rules that you might need to know someday.
Plus Justin Stone of elitebaseball.tv answers the Question Of The Week about whether the tennis swing will ruin a baseball swing.
In this 55-minute episode, you'll learn:
whether umpires view regular season games differently from playoff games
how batting out of order should be handled
what it means to run out of the baseline
what the "runner's lane" means along the first base line
where exactly is the top and bottom of the strike zone
why the low strike is challenging for umps to call accurately and consistently
why the outside strike is challenging for umps to call accurately and consistently
whether the umpire should pay attention to a batted ball into the outfield, or watch baserunners
a couple different ways for the defense to make an appeal
whether the umpire should get out from behind the backstop to see plays
whether Brandon thinks teams should teach fielders how to stop runners or have league-mandated rules on the subject
an idea to help coaches understand umpires more empathetically
whether "make up calls" actually exist
whether umps have a bias against coaches they don't get along with
whether umpires give more favorable calls to coaches who try to be extra friendly
Resources and links mentioned in this episode:
Right-click on this link and 'Save as...' to download this episode.
Want MORE Edgy Info?
Never miss an article! Enter your info to get more practical, actionable youth baseball coaching info like this.

Are you a new coach? I have a free 15-day email course just for you, where I walk you through coaching a team for an entire season over the course of 3 weeks.
Podcast: Play in new window | Download