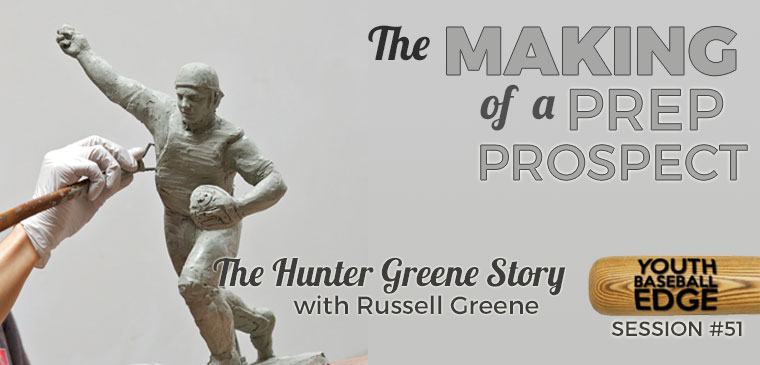 Russell Greene, father of prep superstar Hunter Greene, discusses how Hunter grew to being potentially the #1 overall draft pick in the MLB amateur draft in June 2017 and where they may go from here. This is Part 2 of a two-part interview that's part of YBE's "successful baseball dads" series.
Plus, Justin Stone of elitebaseball.tv answers the Question Of The Week, this time about how to help kids give extra effort on plays instead of giving up.
And Austin Wasserman of WassermanStrength.com shares a cool training tip with water balls in Wass Strength's Tip Of The Week.
In this 1 hour, 5 minute episode, you'll learn:
one tip to help kids be more resilient in baseball
how to help kids who love the game to love it even more
what age Hunter loved the game
Russell's view of the nature vs. nurture debate on becoming elite in sports
what the recruitment process was like for Hunter
why Hunter chose UCLA
how college baseball scholarships differ from college football scholarships
who gets the most credit for Hunter's pitching skills
who gets the most credit for Hunter's hitting skills
when Hunter started strength training
whether Russell or a facility designed Hunter's strength program
Hunter's diet is like
how much Hunter's velocity jumped from freshman to sophomore year
whether Hunter prefers hitting more than pitching, or vice-versa
how Hunter feels about the Minnesota Twins, the team holding the #1 overall pick in 2017
whether the Cincinnati Reds—who have the #2 overall pick—have contacted Hunter
what other teams have contacted Hunter
whether there's any chance Hunter will skip the pros and enroll at UCLA
what Hunter's goals are for his senior season
whether Russell is concerned a subpar season will negatively affect his draft ranking
how youth baseball can appeal to African-American youth
Resources mentioned in this episode:
Right-click on this link and 'Save as...' to download this episode.
Want MORE Edgy Info?
Never miss an article! Enter your info to get more practical, actionable youth baseball coaching info like this.

Are you a new coach? I have a free 15-day email course just for you, where I walk you through coaching a team for an entire season over the course of 3 weeks.
Podcast: Play in new window | Download