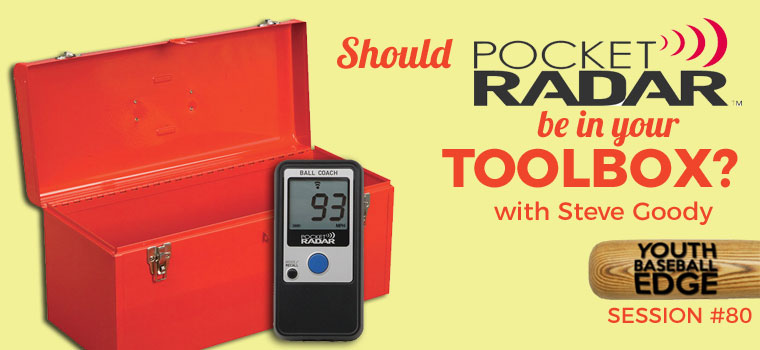 Even in an era of baseball data, a radar gun at the youth level seems like a luxury. But is it a luxury—or a must-have? Pocket Radar co-founder and CEO Steve Goody discusses how the Pocket Radar Ball Coach model can help coaches help their pitchers and hitters.
Plus Justin Stone of elitebaseball.tv answers whether organizations like Baseball Factory would be useful for instructional or motivational purposes for a 13-year-old. And Austin Wasserman of WassermanStrength.com teaches us about one of his all-time fave exercises—trunk rotation for youth baseball players in the Wass Strength Tip Of The Week.
In this 38-minute episode, you'll learn:
how the Pocket Radar Ball Coach idea was born
how the Pocket Radar Ball Coach compares to Stalker in accuracy
how radar works and why two Stalker guns side-by-side can give different readings by +/- 1 or 2 mph
how to use radar to improve pitching
how to use radar to track pitcher fatigue
how to use radar to help develop the perfect change-up
how to use the Pocket Radar Ball Coach to improve hitting
the lowest speed and highest speed the Pocket Radar Ball Coach can pick up
Resources mentioned in this episode:
Right-click on this link and 'Save as...' to download this episode.
[Note: sound clip courtesy https://www.bensound.com]
Want MORE Edgy Info?
Never miss an article! Enter your info to get more practical, actionable youth baseball coaching info like this.

Are you a new coach? I have a free 15-day email course just for you, where I walk you through coaching a team for an entire season over the course of 3 weeks.
Podcast: Play in new window | Download