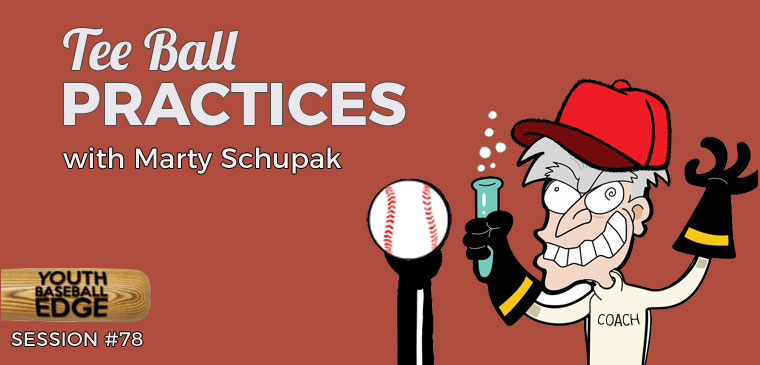 No 1st and 3rd situations to worry about. No balks and pickoffs to teach. No teaching of curveballs. Nope, if you're teaching tee ball kids, there's no nuance; it's all the absolute, bare bones basics...it's a good day if the kids can just throw the ball somewhere within three feet of you. Teaching tee ball requires extra patience, which is why making practice segments fun is so crucial—for both the kids' AND the coaches' sake. Marty Schupak returns in Part 2 of a two-part interview to discuss how to run practices for tee ball teams.
Plus Justin Stone of EliteBaseball.TV answers the Question Of The Week about how to help structure practices for a 7U machine pitch team consisting of players of varying skill level.
In this 42-minute episode, you'll learn:
when to introduce batting stance/setup basics
3 tips to help kids be more comfortable swinging the bat
1 key technique (and accompanying cue) to help kids follow through on the swing
a tip for teaching how to ingrain in kids to get their arms back more when throwing
2 more tips for teaching kids how to throw
2 game ideas for teaching how to tag runners
a key tip for helping kids learn how to catch a thrown ball
the main reason for teaching in a progression (at any level)
how to separate kids in groups during practices
practice logistics
a tip to help kids know which order of bases to run to
a tip to teach kids how to run to first base
whether to teach these young kids how to round the base
whether kids should split defensive time between infield and outfield
whether kids should follow the key rules (e.g., if batter is out, he cannot stay on the base)
the value of a team newsletter
Resources mentioned in this episode:
Marty's book T Ball Skills & Drills
If you have Amazon Prime, just log into your account and search for "Schupak baseball" to watch his baseball videos for free
Right-click on this link and 'Save as...' to download this episode.
Want MORE Edgy Info?
Never miss an article! Enter your info to get more practical, actionable youth baseball coaching info like this.

Are you a new coach? I have a free 15-day email course just for you, where I walk you through coaching a team for an entire season over the course of 3 weeks.
Podcast: Play in new window | Download