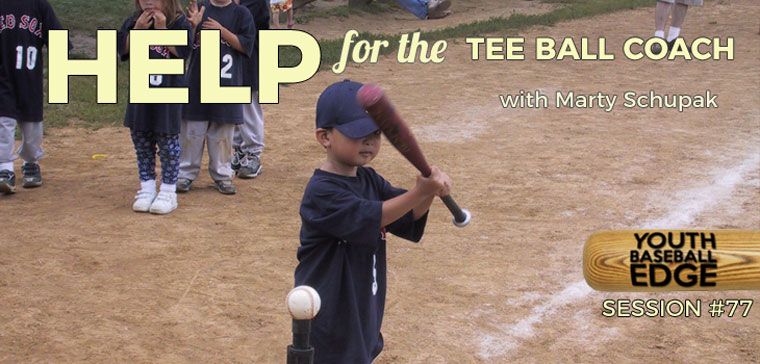 With all due respect to other baseball coaches, tee ball coaches have it toughest. Yet there isn't much info out there for this oft-neglected group of coaches. If you are—or will be—coaching tee ball kids, Marty Schupak delivers some great advice for coaches teaching the youngest of baseball athletes. This is Part 1 of a two-part interview.
Plus Justin Stone of EliteBaseball.TV answers the Question Of The Week about how to find a hitting coach for an 8-10 year old.
In this 45-minute episode, you'll learn:
why tee-ball is important
3 key tips for first-time baseball coaches
what is a parent meeting, why it's important and some sample topics for a productive meeting
four more tips for better parent meetings
the difference between an introductory email and a parent meeting
a sample introductory email
a few of Marty's coaching philosophies
how to handle a tee-ball batting order
three other tips to provide tee-ball parents
a great tip for parents to find used, already-broken-in gloves
the ideal number of practices in a season
how to help keep kids focused during practices
two ideas to help kids learn all the different positions
how to help kids on defense from piling up on each other while fighting for the ball
what to focus on so that passive kids are more willing on defense to go after balls
a simple tip to help kids not throw their bats
Resources mentioned in this episode:
Right-click on this link and 'Save as...' to download this episode.
Want MORE Edgy Info?
Never miss an article! Enter your info to get more practical, actionable youth baseball coaching info like this.

Are you a new coach? I have a free 15-day email course just for you, where I walk you through coaching a team for an entire season over the course of 3 weeks.
Podcast: Play in new window | Download