"Hit the back of the batting cage!"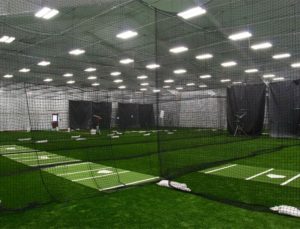 That's a common refrain I hear (and probably you do too) from coaches to kids as the kids are hitting in the cage.
This is unfortunately another source of misinformation, and you're doing your kids a disservice if you are giving that as your cue.
Most batting cages are 45-75' in length. The distance from home plate to second base is just over 127' in length. This means that if a batter were to "hit the back of the batting cage", that would be 40-60% of the distance to second base. In other words, a routine ground ball up the middle. A shortstop with decent range should be able to swallow that up (unless the exit velocity is over 80mph).
On the field, we encourage kids to swing slightly up to get that target 15-30 degree launch angle. But when we hit the cages, for some reason, we forget about that and tell our kids to "hit the back of the batting cage!"
Instead, we should be training our hitters to take into account launch angle in the cage as well. That means a batted ball in the cage should hit the top of the batting cage, not the back of the batting cage.
The question that remains is: where in the top of the batting cage should the kids be striving for?
A great reference is this Diamond Kinetics article that gives us launch angle equivalents for the distance of the plate to the top of the batting cage.
So if you don't have HitTrax, TrackMan or Blast Motion technology, all you need is a tape measure when you take your kids to the batting cage.
Want MORE Edgy Info?
Never miss an article! Enter your info to get more practical, actionable youth baseball coaching info like this.

Are you a new coach? I have a free 15-day email course just for you, where I walk you through coaching a team for an entire season over the course of 3 weeks.