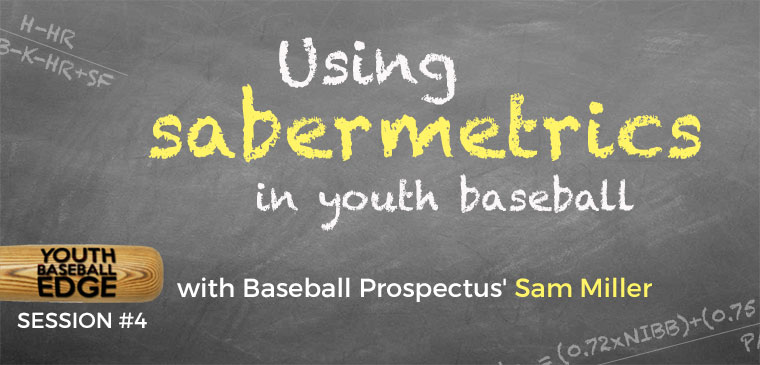 Before 
Moneyball
became a cultural catchphrase, sabermetrics was employed only by the geekiest of baseball fans. Post-
Moneyball
, you may be wondering if advanced metrics is overkill for the youth game and if not, to what extent is using sabermetrics in youth baseball helpful to your team and the youth game in general. In this episode, I chat with Sam Miller, the editor-in-chief of
Baseball Prospectus
, one of the most widely respected sabermetric web sites, to tackle these intriguing issues and much more.
[Side note: this interview was recorded in early October when the MLB playoffs were still going, and when Grantland, which was referenced in this episode, was still in existence.]
In this episode, you'll learn:
how Sam views Fangraphs
Sam's estimated percentage of baseball fans who are interested in sabermetrics
what Sam's favorite hitting and pitching stats are, and why
whether the small sample size of the youth baseball season renders sabermetrics useless in youth baseball
different ways in which you can improve your team—and your players' IQ
where to draw the line in data analysis for youth baseball
how to make stats even more useful to youth baseball than what current sabermetrics offer
what to do with errors in youth baseball
how to rank your pitchers
what to do in lieu of MLB's PitchFX
how to account for unusual offensive plays
what to do with baserunning plays
non-sabermetric things to teach catchers
Sam's template for youth batting lineups
how to evaluate the value of a youth baseball coach
what you can track if you aren't the type who is inclined to crunch numbers
Links, resources and metrics mentioned in this episode:
Weighted On Base Average
formula:

where:
NIBB
= non-intentional walk
HBP
= hit by pitch
1B
= single RBOE = reach base on error
2B
= double
3B
= triple
HR
= home run
PA
= plate appearances (or, at-bats + sacrifice flies + HBP + walks)For greater reflection of outcomes, you may want to add this to the above numerator:
(0.75*OOH) + (0.75*OOE) - (1.2*GIDP)
where:
OOH
= out on what should have been a hit (e.g., hit to RF but thrown out at 1B)
OOE
= out on error (where batter didn't run hard to 1B and was out even though fielder made error)
GIDP
= ground into double play (bump "1.2" to a higher value if your league's offensive environment is low-scoring)
Runs Created
formula (I chose the more complicated formula but
Wikipedia
has some simpler formulas as well):
where:
H
= hits
BB
= walks
CS
= caught stealing
HBP
= hit by pitch
GIDP
= ground into double play
TB
=
total bases
IBB
= intentional walk
SH
= sacrifice bunt
SF
= sacrifice fly
SB
= stolen base
AB
= at-bats Personally, I would also include double plays on fly balls in GIDP.
OPS
formula:
OPS = OBP + SLG
where
OBP
= on-base percentage and
SLG
= slugging percentage. Breaking down even further:

where:
H
= hits
BB
= walks
HBP
= hit by pitch
AB
= at-bats
SF
= sacrifice fly
TB
=
total bases
Note: one of the weaknesses of OPS is that it weights OBP and SLG equally, whereas sabermetricians tend to value OBP more. Sabermetricians like OPS+ better since it also factors park effects and compares to the league-average OBP and league-average SLG. It is difficult to obtain league-average info in youth baseball, so OPS+ can be ignored by nearly all youth baseball coaches.
Fielding Independent Pitching
formula:
FIP
= ((13*HR+3*BB-2*K)/IP) + 3.2 where 3.2 is a constant used to make the calculation resemble ERA (earned run average). Since there are normally not outfield fences in youth baseball for home runs, I would consider any seriously booming shot that no outfielder could have caught to be a home run. You can decide for yourself what constitutes a home run as long as the standard is consistent.
Strikeout percentage
formula:
K % = K/batters faced
where
K
is strikeouts. See note below about "
batters faced
".
Walk percentage
formula:
BB % = NIBB/batters faced
where
NIBB
is non-intentional walks. See note below about "
batters faced
". Note: for purposes of "
batters faced
", if a relief pitcher comes in the middle of an at-bat, that relief pitcher is always responsible for that batter faced
unless
the batter is walked
and
the count when the reliever enters the game is 2-0, 2-1, 3-0, 3-1 or 3-2.
Right-click on this link and 'Save as...' to download this episode
.
Want MORE Edgy Info?
Never miss an article! Enter your info to get more practical, actionable youth baseball coaching info like this.

Are you a new coach? I have a free 15-day email course just for you, where I walk you through coaching a team for an entire season over the course of 3 weeks.
Podcast: Play in new window | Download