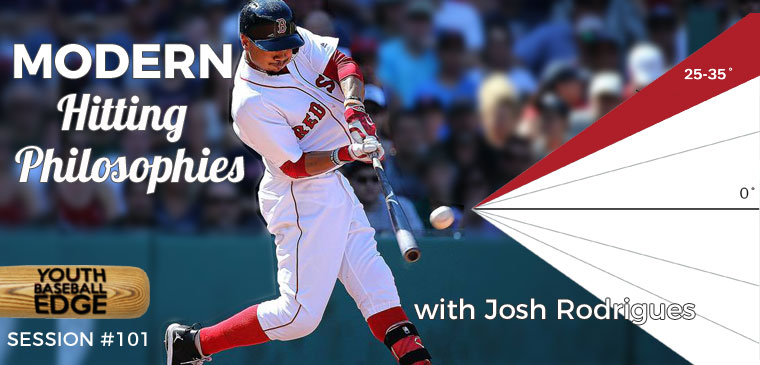 What are the hitting philosophies you teach your players? How did you come to embrace those philosophies? And what evidence do you have to support your philosophies? Josh Rodrigues, assistant coach at Salve Regina University, talks about modern hitting philosophies that's backed by stats and research. This is Part 1 of a two-part series.
Plus Justin Stone of elitebaseball.tv answers the Question Of The Week about how to help kids get over being afraid of being hit by the ball. And find out how to win YBE swag (hint: listen to YBE Session #100)!
In this 39-minute episode, you'll learn:
why Josh wants to challenge the baseball coaching instruction status quo
five incorrect coaching cues Josh learned when he was younger
how Josh realized that what he had learned was incorrect
three things Josh believes that most people think are crazy
why Josh believes bunting should never be done
the value of practice time spent on situational hitting
the state of hitting instruction today
what should be the focus of hitting instruction today, whether tee ball or high school
where teaching mechanics fall in the priority list of hitting instruction
whether kids should swing up, swing level or swing down
how coaches can discuss with parents who have a different opinion on bat path
whether anyone can eventually be a home run hitter
Links mentioned in this episode:
Right-click on this link and 'Save as...' to download this episode.
Want MORE Edgy Info?
Never miss an article! Enter your info to get more practical, actionable youth baseball coaching info like this.

Are you a new coach? I have a free 15-day email course just for you, where I walk you through coaching a team for an entire season over the course of 3 weeks.
Podcast: Play in new window | Download