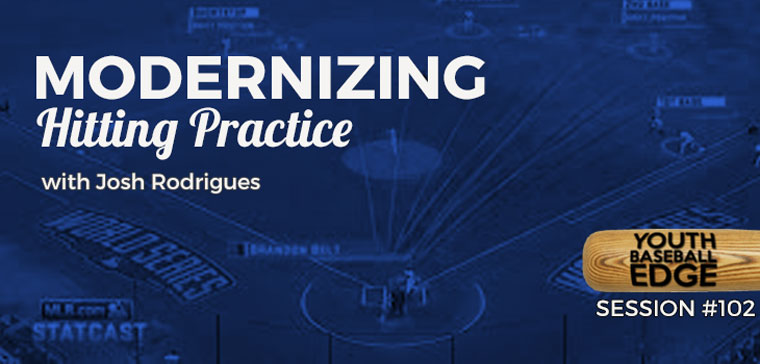 Does your batting practice consist of you pitching, one kid hitting and everyone else standing around in the field...while telling the batter to swing level? Josh Rodrigues, assistant coach at Salve Regina University, discusses some modern hitting concepts and practical ways to help your hitters. This is Part 2 of a two-part series.
Plus Justin Stone of elitebaseball.tv answers the Question Of The Week about how to help kids know how to end plays on defense. And Austin Wasserman of WassermanStrength.com introduces us to offset squats. Plus, this is your last week to enter a giveaway for free YBE swag (hint: listen to YBE Session #100)!
In this 42-minute episode, you'll learn:
how knowing your exit velocity and launch angle can help your training
the difference between 'attack angle' and 'launch angle'
the ideal range for launch angle
how to estimate launch angle when hitting in a batting cage
what is 'bat plane'
the definition of 'batted ball spin'
two different types of 'offset' and how one of them should affect your training
a training tip you can do with bricks and mobile bullpen mounds
an easy way to help kids improve their exit velocities
what exactly is 'bat speed'
how weighted bat training can help improve both bat speed and barrel control
Josh's thoughts on the PowerChute
what does 'squaring the baseball up' mean
a simple way to help train the right way to 'square the baseball up'
Josh's thoughts on vision training
what virtual work is and how it could help training hitters
what the future of modern hitting instruction will focus on
Plus a bonus segment where you'll also learn:
where the bat should make contact with the ball in terms of the swing plane
whether the old saying of 'letting breaking balls' get deep is valid or not
Resources and links mentioned in this episode:
Right-click on this link and 'Save as...' to download this episode.
Want MORE Edgy Info?
Never miss an article! Enter your info to get more practical, actionable youth baseball coaching info like this.

Are you a new coach? I have a free 15-day email course just for you, where I walk you through coaching a team for an entire season over the course of 3 weeks.
Podcast: Play in new window | Download