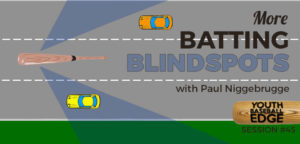 Paul Niggebrugge, founder of Be Your Best Academy, warns us about several more hitting blindspots from a coaching perspective. Many of the blindspots discussed in this episode relate to younger players. This is Part 2 of the interview; if you missed Part 1, you can catch it
here
.
Plus, Justin Stone of elitebaseball.tv answers the Question Of The Week, this time about whether there's an advantage of playing your kid up.
In this 40-minute episode, you'll learn:
how to use the power of questions to teach a skill
whether to use questions during team activities or at stations
the importance of understanding how you make your outs
how to instill a culture of learning from struggles
what is ineffective batting practice
a sample Ultimate Batting Practice
how to structure a batting practice for t-ballers and coach pitch batters
the two biggest issues for coaches to work on with t-ball & coach pitch batters
four key questions to ask your young hitters as they learn to hit
how to help kids with timing and pitch recognition
avoiding neuroconfusion and neurostagnation
how we often don't define terms in our vocabulary
a few thoughts on being a power hitter
Resources mentioned in this episode:
Right-click on this link and 'Save as...' to download this episode.
Want MORE Edgy Info?
Never miss an article! Enter your info to get more practical, actionable youth baseball coaching info like this.

Are you a new coach? I have a free 15-day email course just for you, where I walk you through coaching a team for an entire season over the course of 3 weeks.
Podcast: Play in new window | Download