Every coach should have a tee, regardless of what age group you coach.
Tee-ball aged kids obviously have to hit off a tee, but even major league pros hit off a tee when they want to work on something in their swing.
The problem is, the tees you find at your local sporting goods store are crap.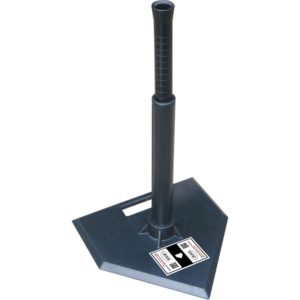 The most common ones look like this Jugs "Hit Like A Pro" tee (pictured, right). The problem with these types of tees is that the tee topper (where you place the ball on) is a very rigid rubber material that resists your hitters' swings when the bat contacts the tee and the ball.
You see, the elite swing requires a slight uppercut swing of 15-30 degrees. With a tee like the Jugs "Hit Like A Pro" tee, your hitter will definitely have to hit the rigid tee topper when attempting to hit the baseball with a high-level swing. But hitting the rigid tee topper is like hitting anything else that's stiff: it creates resistance and slows down bat speed at the most crucial point of the swing—the point of contact. That means that in order to avoid hitting the tee itself, the batter will need to either swing completely level or swing down, both of which trains bad hitting mechanics.
If you are a rec league (or "house") coach, you'll probably be given one of these types of tees as part of your equipment. I suggest you never, ever use it.
Pros
You need a batting tee with a tee topper that gives as little resistance as possible. The original Tanner Tee gives you that.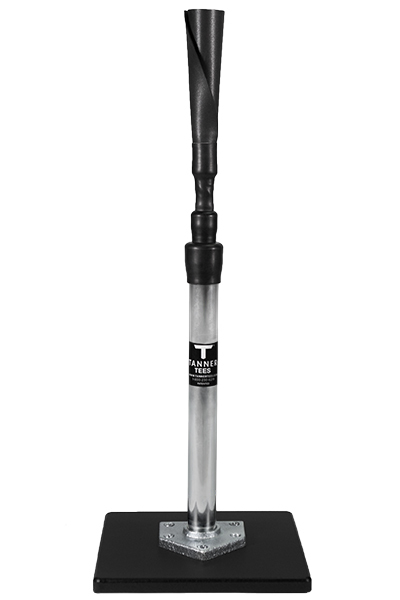 This is my unbiased Tanner Tee review.
The Tanner Tee has a rolled rubber top that makes it easy to place the ball on top while allowing kids to train in the high-level swing without external interference at ball strike.
It's also lightweight, which is a consideration—given that coaches tend to have quite a few things to carry from the car to the field. However, being lightweight can also be a drawback in addition to being a feature.
Cons
The fact that the original Tanner Tee is lightweight means that kids who mis-hit the ball (by swinging just a few inches lower than the ball) will knock over the entire tee. Aside from losing the kids' focus as they giggle at the sight of a knocked-over tee, it wastes practice time to repeatedly pick up a tee that gets knocked over.
Also, because the rolled rubber top is permanently attached to the stem, you have to be very careful how you store the tee—particularly in the car during transport to and from the field. If the rubber top is bent for an extended period of time, it could have a permanent crease that compromises the strength of that rubber top.
Conclusion
For a time, the Tanner Tee was the exclusive provider of the rolled rubber top tee. Whether the company forgot to patent its invention, the patent expired or whatever, that no longer is the case. Companies like Skilz, $99 and Jugs, $75 now offer their own version of the rolled rubber top tee.
At $70, the original Tanner Tee is cheaper than all of them, and it comes in both an adult and a shorter youth version. (It was $50 when I first got mine.)
Would I recommend a Tanner Tee? If your budget is no more than $75, than yes, I would recommend a Tanner Tee. There are better tees out there but they cost more. If you can afford to pay more, I have higher recommendations I'll be posting in the next few days.
Verdict:


4 of 5 Edgy Balls: Above average.
OK to buy if budget is limited but if you can afford it, there are better options.
Want MORE Edgy Info?
Never miss an article! Enter your info to get more practical, actionable youth baseball coaching info like this.

Are you a new coach? I have a free 15-day email course just for you, where I walk you through coaching a team for an entire season over the course of 3 weeks.